4 Ways To Make Your Blog Stand Out: The blogging space continues to evolve as content management systems gain ground in today's digital world. The evolution has made it easy to create and maintain a new blog. However, the evolving space also implies huge competition and content saturation, making it hard for first-time bloggers to cut through the unwanted noise. Therefore, pushing your blog ahead of the curve will demand a lot of differentiation and significant planning. Here are four ways to make your blog stand out.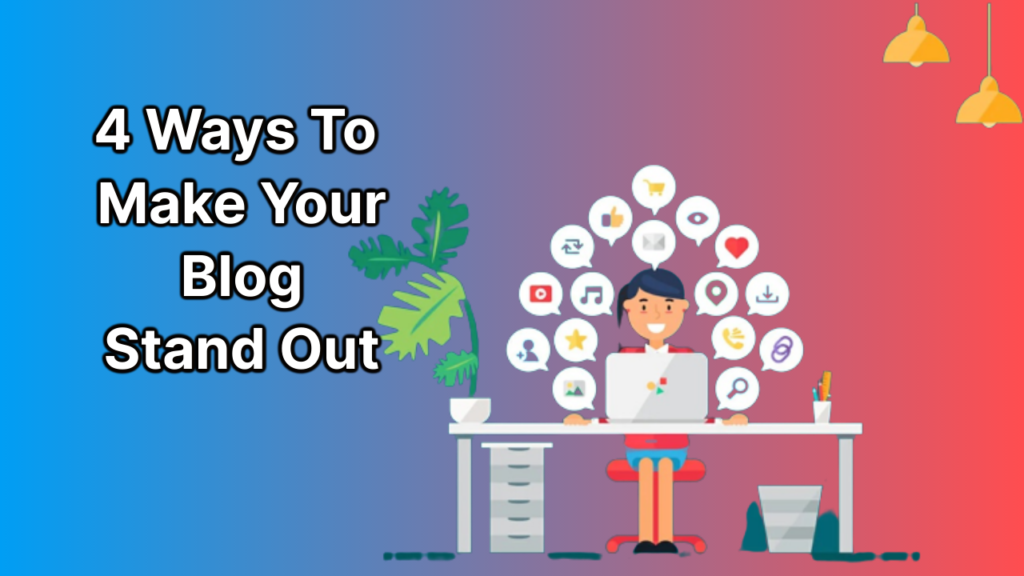 1. Add lots of images:
Today's online users have become pressed for time, averaging shorter attention spans now more than ever. About 71 per cent of consumers search for their products online before patronizing them. However, your website visitors will leave within 10 seconds if you have nothing to offer. Visualizing your content can be a great way to retain visitors. For instance, if you're a fashion blogger, you can create clear graphics and images of your new denim skinny jeans featuring the marketed price. That way, you give readers something to feed their eyes.
Experts say traditional marketing graphics churn about 5 per cent engagement rates, while memes guarantee 60 per cent organic engagement. You can also use infographics to make educational and long blog posts more comprehensive. According to Hubspot, infographics are the fourth most used type of content marketing, and they can boost your blog traffic by 12 per cent.
2. Find a niche:
Experienced bloggers advise new entrants to focus on finding their niche first. For instance, if you run a tech blog, the best way to feature a shotgun microphone is to identify the vital requirements of professionals who use these microphones in their daily operations. You can also talk about the various ways to maintain these microphones or tweak them for quality sound. Publishing specific types of content for your audience can be a great way to differentiate yourself in the blogosphere.
3. Publish frequently and repurpose old content:
The next step after finding your niche is to publish frequently. The more you provide you target audience with valuable information, the higher your chances of turning leads into customers. That being said, creating quality blog posts is no easy task. Some demand a lot of time researching and editing drafts, and it's crucial not to compromise quality for quantity in your early days as a blogger. You can have a structured publishing schedule as you advance with automation tools to help you schedule posts effectively.
Creating content about juicy topics is also crucial to standing out. Occasionally, some of these posts may go out of touch due to changes in trends or merchandise prices. Repurposing old content to suit the new trends can be a great way to bring them back in vogue. Usually, many people will add a notice informing readers about the new edits made. In your blurb, you can make readers aware of the reasons for touching up the specific post. It provides context, especially for existing users who may be having their second read.
It's also worth noting that some people have a habit of duplicating content, which might affect search engine crawling algorithms. Search engines are programmed to send users quality and improved content, and duplicating your content can confuse the algorithms and is the easiest way to downgrade your search engine optimization (SEO) score. Be sure to not change your permalinks when updating old content if you don't want to lose out on the post's existing ranking.
4. Incorporate your brand:
Bloggers with a strong brand can leverage it in several ways to differentiate themselves from competitors. Branding involves establishing a personal connection with your audience through brand essentials like logo, slogan, colour scheme, and even sound. For instance, fashion bloggers create a custom notification sound alerting users about new sneakers in the pipeline and their arrival dates.
All in all, these tips can help you stand out with your blog regardless of your niche.
how to make a blog stand out
start a money-making blog
how to start a blog stray curls
how to start a blog with no money
blog full form
blogger meaning in english
dog with a blog
blog name ideas