It can be safe to say that the scene around the Battle Royale had remained stagnant for a while. We all got the same old PvP games with only minor differences, creating a craving in the community for something unique and refreshing. And that is just what the Bloodhunt has tapped into.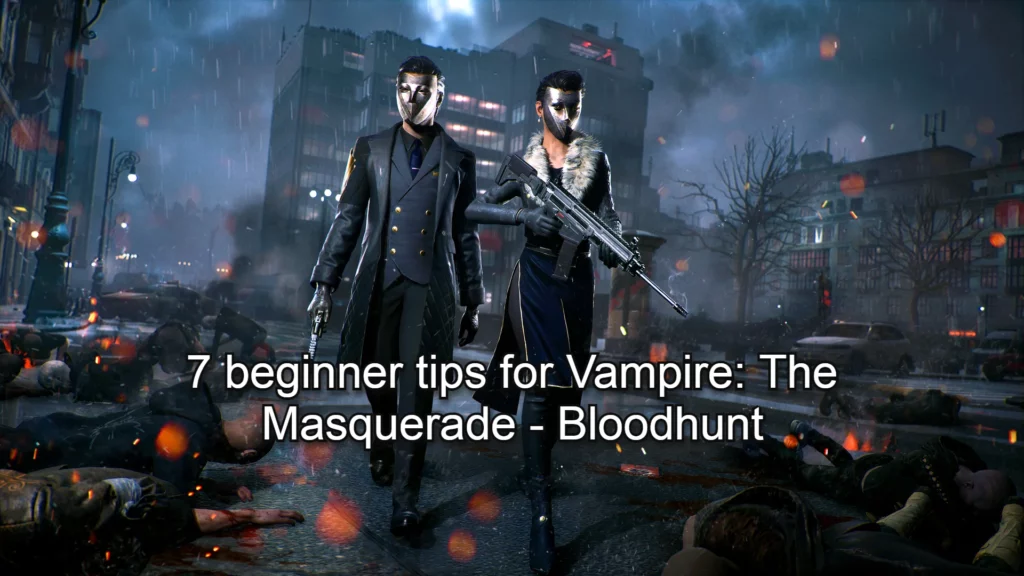 While the game's premise is quite similar to what other games in the last-man-standing category have to offer, the weird fusion of Vampires and vertical mapping has given the gaming enthusiasts something they can fawn over. And fawn over, they did. As immediately after the release of its PC version, the game has quickly topped the charts in many countries worldwide. And the way it is going, one can safely say that the craze for the game will stay with us for a while.
Are you planning to have some fun playing this game? Hold on for a second and read some of the best beginner tips and Vampire: Masquerade Bloodhunt hacks to make for an enjoyable experience.
1. Don't think of it as just another PvP game
Bloodhunt is unique in its approach, as you are not only facing the other players, but you are also fighting against the heavily armored soldiers in the game. These soldiers are known as the Entity, and they would shoot on sight. Like other NPCs, you can also feed upon them and loot high-tier weapons from their dead bodies.
2. Upgrade your character
By upgrading your character, you would become stronger and get more Blood resonance slots as well. These resonance slots are crucial as the more you have, the different types of resonance you can collect. You start out with only three slots, and you should immediately plan to get it up to the maximum as soon as possible.
There are two ways to upgrade your Blood resonance cap. First, by feeding on the entity soldiers. And second by Diablerizing, your enemies. The second one would be pretty difficult and would require some practice, but the end result is more than worth it.
3. Use your abilities
Unlike other PvP games where the games have a long cooldown timer limiting the use of a player's special abilities, the cooldown is pretty low in Bloodhunt. And with every upgrade, the timer goes down little by little. So, it will be quite helpful if you don't hesitate to use your abilities in Bloodhunt.
4. Get a better understanding of the map
The game's verticality is simply astonishing, opening new sets of possibilities for Battle Royale players. This is why one has to spend some time learning the map. You can easily climb on the building, leap from one to another and stalk your prey quite efficiently. But to be able to do that, you would need to have an excellent understanding of the game's map. So, that is what you should do.
5. Find the right archetype for you, and then stick with it
Every archetype in Bloodhunt has its strengths and weaknesses, with not one of them overpowered. So, you don't have to change your archetype every single round. It is not necessary at all.
While there is no harm in experimenting, once you have found the right archetype for you to play as, then you need to stick with it and get that vital experience that will improve your gameplay.
6. Scan your surroundings constantly
In Bloodhunt, you would be awarded an ability: Heightened Senses, regardless of your archetype. It allows players to scan their surroundings, look for nearby enemies, loot items, and even valuable NPCs that they can feed on. Make use of this ability and not only would you be able to gather high-level loot items but also avoid any traps set by enemy players.
7. Avoid snipers
Snipers are a waste of space in Bloodhunt. In simplest terms, they suck and you should avoid them at any cost. Bloodhunt is a game where the player's mobility is essential, and with the verticality of the map, snipers are not worth the risk. Not to mention their magazines are small, needing one to refill them time and time again. It could result in a disaster and early elimination, especially in a game where close and medium-range combats are the norm.
Bottom Line
If you are someone who is looking for the best hacks for Vampire: The Masquerade – Bloodhunt, the above-listed ones will surely help. The hacks are perfectly meant for beginners and if you are new to them, make sure to include all the tips in your gaming strategy.
Tags: Vampire: the masquerade Bloodhunt best class, Bloodhunt weapon tier list, blood hunt prowler, blood hunt map, revive Bloodhunt, vampire: the masquerade the entity.