Best Bluetooth Speakers: When it comes to choosing a Bluetooth speaker, there are many factors and reasons to consider. Bluetooth speakers have become increasingly popular due to their convenience and portability. Whether you're looking for a speaker to use at home, on the go, or for outdoor activities, Bluetooth speakers offer a wide range of options to suit your needs.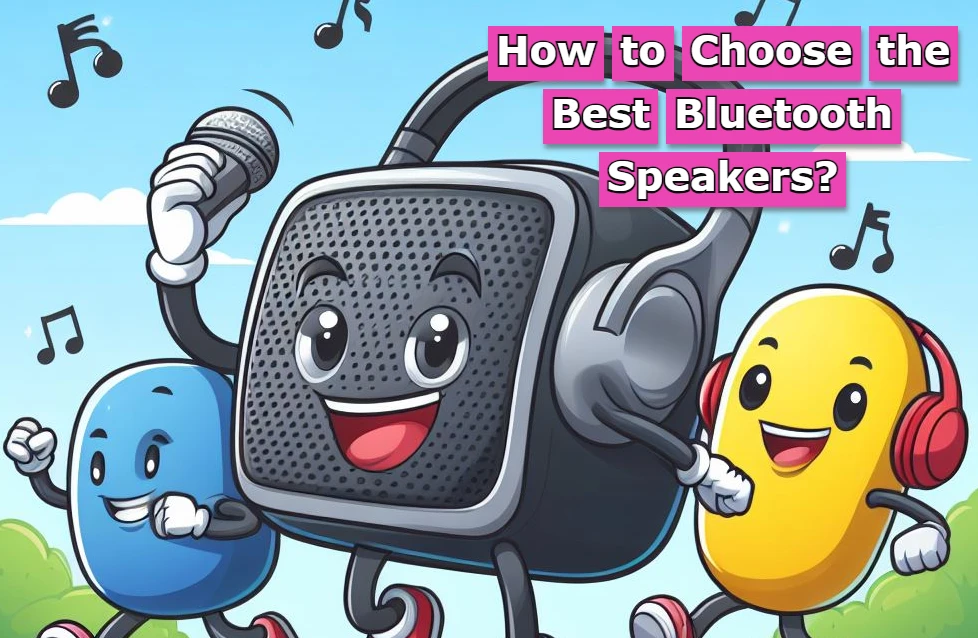 Tips to Choose the Best Bluetooth Speakers
Firstly, think of portability – how important is it for you? Do you want a speaker that is easy to carry with you and fits your palm or backpack? Or are you going to use it at home and just want to cut off the wire? Consider the optimal size and weight of your speaker, as well as any additional features like a built-in handle or clip.

 
Battery capacity is another important consideration. Look for a speaker with a long battery life, especially if you plan to use it for extended periods of time without access to power. This will ensure uninterrupted music enjoyment wherever you go.

 
If you enjoy outdoor activities or want to use the speaker near water, waterproofing is crucial. Look for speakers with an IPX rating, which indicates their resistance to water and dust. Consider the Bang & Olufsen speakers: they are approved with IP67 rating, which means they can withstand being submerged under water to a maximum of one meter deep for 30 minutes. This way, you can enjoy your music worry-free even in wet or dusty environments: by open water or pool, outdoors or in the countryside.

 
Smart features are also worth considering when choosing a Bluetooth speaker. Some speakers come with voice control capabilities, allowing you to control playback and access virtual assistants like Siri, Alexa or Google Assistant hands-free.

 
Last but certainly not least, sound quality should be a top priority. Look for speakers that offer clear and balanced audio, with good bass response and minimal distortion at higher volumes. Reading reviews and listening to audio samples can help gauge the quality of sound produced by different models.

 
Overall, when choosing a Bluetooth speaker, consider factors such as sound quality, portability, battery life and any additional features that align with your preferences and lifestyle. With their wireless connectivity and convenience on-the-go or at home, it is no wonder why so many people are opting for these versatile devices. 
Top 3 Bluetooth speakers' brands
JBL: JBL offers a range of Bluetooth speakers known for their powerful sound and durability. Some popular models include JBL Boombox 3, JBL Charge 5, and JBL Flip.
Bang & Olufsen: B&O is known for producing portable and waterproof Bluetooth speakers with excellent sound quality. The Beosound Explore and Beosound A1 are among their popular models.
Sonos: Sonos offers versatile and high-quality Bluetooth speakers for home use. The Sonos Roam and Sonos Era series are well-regarded for their smart features and immersive sound.
Additional Guide on Choosing Bluetooth Speakers
Here are some specific suggestions for the best Bluetooth speakers:
Make a budget: Bluetooth speakers may cost anything from $20 to $500 or more. Before you start shopping, decide how much you're willing to spend.
Ratings and Reviews: After you've narrowed down your options, read reviews of several speakers to get a feel of their sound quality, features, and durability.
Speak to them in person: If feasible, go to a shop and test out various speakers before purchasing them. This will give you the most accurate impression of how things sound.
Also Check: Pro Tips for Air Conditioning Installation
Final Words:
In conclusion, Bluetooth speakers provide users the flexibility to pick a product that meets their requirements and tastes. Bluetooth speakers are popular because of their mobility and flexibility, making them ideal for home, travel, and outdoor use. When choosing, consider portability, battery life, waterproofing, smart features, and most importantly, sound quality. Individual interests and lifestyles determine the importance of each factor, making it important to thoroughly examine and pick a Bluetooth speaker that meets one's needs.
The speaker's size, weight, and features like handles and clips affect portability. Battery capacity is crucial for long-term music playback without electricity. If you want to use the speaker outside or in water, IPX ratings are important. Smart features like voice control and virtual assistants improve user experience. Sound quality is most important, with clear, balanced audio, excellent bass response, and little distortion at high levels.
Top Bluetooth speaker companies JBL, Bang & Olufsen, and Sonos provide a variety of alternatives for varied tastes and use circumstances. Budget, ratings, reviews, and in-person speaker testing help make an educated selection. Bluetooth speakers are popular with a large audience seeking immersive music due to its wireless connection and portability.
Tags: Best bluetooth speaker pc, best bt speakers india, best bluetooth speakers under 1000, best bluetooth speaker for tv, best bluetooth speaker sound quality, best bluetooth speaker for home, best bt speaker 2023, best portable bluetooth speakers.