Causes Of Electrical Repairs: Electricity has become the lifeblood of modern society. It powers homes, fuels businesses, and provides a myriad of conveniences to humanity. From keeping rooms illuminated and running essential appliances to charging smartphones to powering computers, electricity is a cornerstone of contemporary living.  
However, like any system, the electrical setup in your home isn't immune to problems. When issues occur, they can cause significant inconveniences and safety concerns, which impact your routines and potentially pose a risk to your well-being.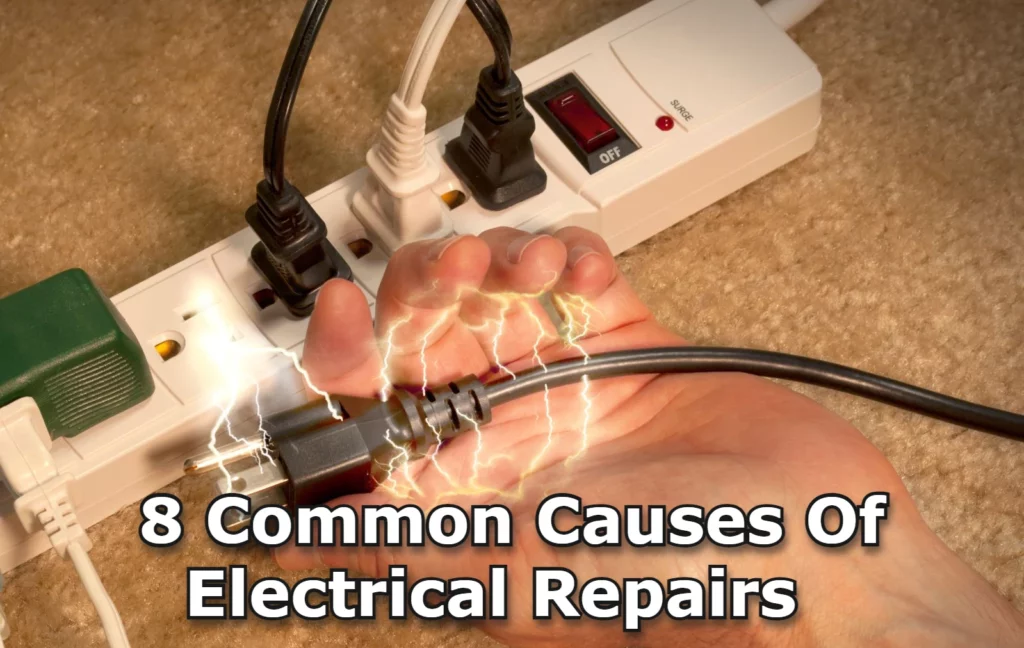 This article delves into seven common causes that require electrical repairs.  Read on!
8 Common Causes Of Electrical Repairs
1. Circuit Overload 
The prevalence of electronic devices in modern homes and offices has drastically increased electrical demand. This can overwhelm circuits, leading to frequent tripping of circuit breakers or blowing of fuses. This situation is called circuit overload.  
Generally, an overload takes place when excessive electricity flows through the circuit. This can happen when several electrical devices are plugged into the same circuit. Continuous overloading makes the electrical system more likely to get damaged, necessitating professional repairs. 
On the other hand, to prevent circuit overloads, try to use extension cords rarely and have the electrical circuits checked by a qualified electrician.  
2. Loose Electrical Connections 
Loose electrical connections refer to connections between two conductors that aren't tight enough. They can be dangerous since they can cause electrical device malfunction, overheating, fire, and shock. Additionally, loose connections can lead to intermittent power supply issues. They can occur due to age, poor installation, or vibration from appliances.  
Thus, if you suspect you have a loose electrical connection, it's essential to require professional intervention to ensure the proper functioning of the electrical system. For example, a level 2 electrician can help improve the electrical supply network to avoid the risk of a loose connection. So, if you're looking for a skilled professional, check out reliable websites and resources online.    
However, like other electrical issues, a loose connection can be avoided by having your system inspected by a professional and using proper materials and tools when installing electrical wiring.  
3. Faulty Wiring 
Faulty wiring refers to a term used to describe electrical wiring that's damaged, defective, or worn. It can be a leading cause of electrical problems, which can lead to electrical shocks, fires, and other related safety hazards.  
Signs of faulty wiring include flickering lights, burning smells, or sparking outlets. Not only does this necessitate repair, but it also poses significant fire risks.
To prevent faulty wiring, you should use surge protectors on sensitive electrical devices, keep your appliances away from water, and report any signs of poor, deteriorating wiring to an electrician immediately.  
4. Power Surge Issues 
A power surge refers to a sudden increase in an electrical circuit's voltage. This electrical issue, whether caused by external factors like lightning or internal factors like large appliances turning on, can inflict significant damage to an electrical system and connected devices. Some common signs of a power surge include flickering lights, electrical sparks, appliances that suddenly stop working, and tripped circuit breakers.  
Luckily, there are some ways to prevent a power surge. For instance, surge protection devices can mitigate this, but any damaged components need repair or replacement.  
5. Damaged Outlets Or Switches 
Damaged outlets and switches are other electrical issues that should be addressed immediately. They usually happen due to overloading, faulty wiring, and physical damage. Additionally, outlets and switches can deteriorate over time or become damaged through frequent use. This can lead to electrical shorts or failures, requiring professional repairs to replace the faulty components.   
However, you should perform some safety measures to avoid dealing with damaged outlets or switches. These include avoiding using power strips or extension wires for a long time and fixing any damage to electrical wiring immediately.   
6. Incorrect Installations 
Incorrect electrical installations refer to installations that aren't up to code or aren't performed correctly. They can lead to a plethora of electrical issues, such as system inefficiencies, failures, or even electrical fires. Some common signs of improper installations include improperly grounded outlets, damaged wiring, and uninsulated wiring.  
For these reasons, hiring a licensed electrician is essential to prevent the risks associated with incorrect installations.
7. Outdated Electrical Panel 
An electrical panel serves as the central hub of a property's electrical system. An outdated or malfunctioning panel can struggle to meet modern power demands, leading to regular trips or even system failures. They can also cause faulty breakers, defective wiring, and overloaded circuits.  
Moreover, some common indications that your electrical panel is outdated include corrosion, overloading, and old age. If you deal with any of these concerns, a panel upgrade is usually the recommended solution. You can hire a licensed electrician for this task. 
8. Water Damage 
Water and electricity are a dangerous combination. Leaks, flooding, or high humidity can lead to electrical shorts, corrosion, and system failures. Hence, it's crucial to identify and fix water damage to avoid electrical issues, which are costly to repair.  
To prevent water from damaging your electrical system, inspect your home for leaks regularly, use weatherstripping around windows and doors, or install a sump pump.    
Final Thoughts  
There are numerous potential causes for electrical repairs. No matter the root cause, a quick response and expert intervention are crucial to mitigate the damage and maintain a safe and efficient electrical system. Ignoring these issues can lead to severe consequences, such as damaging expensive appliances and risking electrical fires. Therefore, keep the information mentioned above in mind so you can promptly address any suspected electrical issues to ensure that everyone remains safe and sound.  
Tags: electrical problems and solutions, what is the most common cause of electrical problems, common electrical problems, electrical problems in the house, common electrical problems in industries, and electricity problems today.