Fire Rated Downlights: When discussing lighting solutions, it's essential to consider safety alongside the factors of aesthetics and energy efficiency. This is where fire-rated downlights come into play. As their name suggests, fire-rated downlights are designed to provide safety measures to counteract the spread of fire in a building. They are unique from the standard variety due to the key safety features integrated into their design. But what is their purpose, and why should you consider using them? Here, we will explore these questions in detail.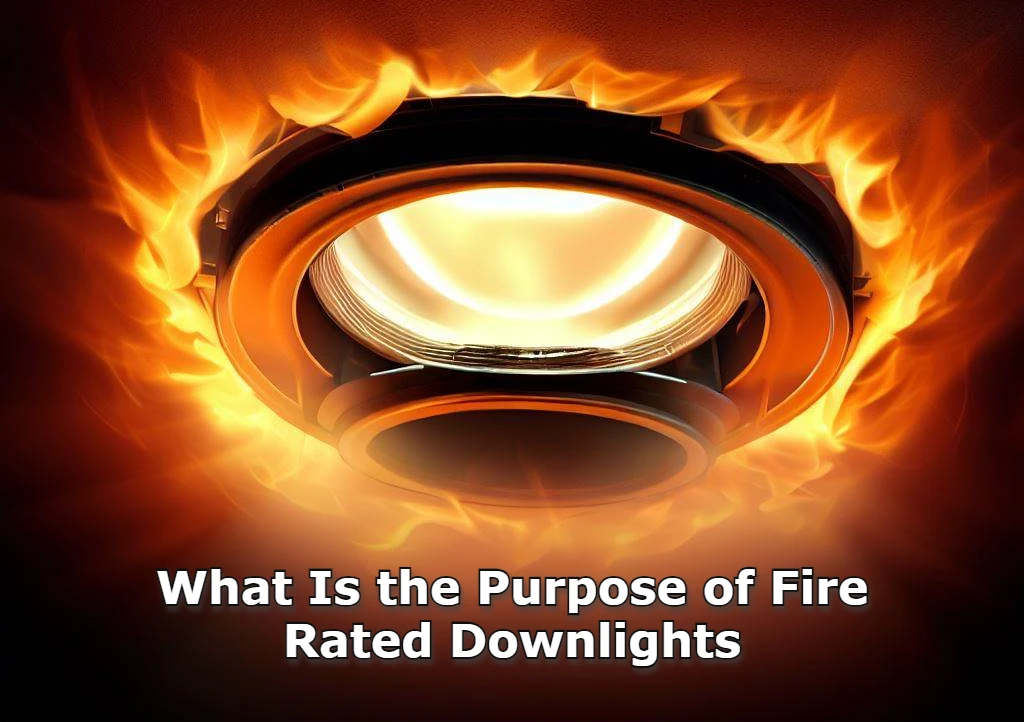 Understanding Fire-Rated Downlights
Before digging deeper into their function, it's crucial to understand what fire-rated downlights are. These are a special type of recessed lighting fixtures commonly used in residential, commercial, or public settings due to their discreet and visually appealing style that offers an elegant look to any space. Yet, their defining characteristic from a safety perspective lies in their fire resistance properties. Constructed to comply with the building code regulations, fire-rated downlights are engineered to resist fire, prevent the spread of flames, and maintain the integrity of a ceiling for a specific length of time (typically 30, 60, or 90 minutes).
The Need for Fire Resistance
Traditional lights require cutting holes into the ceiling for installation, however, this can potentially weaken the structural integrity of the ceiling and create pathways for rapid fire spread in case of an outbreak. Fire-rated downlights offer a reliable solution to this problem by restoring the fire integrity of the ceiling. This ensures that even in case of a fire, there is a reduced likelihood of it spreading between floors, providing those occupying the building with more time to evacuate safely.
Moreover, these types of lighting fixtures are able to withstand temperatures up to 1000°C (1832°F), making them ideal for use in highly combustible environments such as commercial and industrial spaces. Fire-rated downlights thus not only provide greater levels of protection but also prove to be more cost-effective due to their increased longevity compared to traditional lighting solutions. This makes them an attractive choice when it comes to ensuring safety while also maintaining energy savings over time.
Also, Check: Is it possible to Replace AED Battery?
Benefits of Fire Rated Downlights
Here are some benefits of using fire-rated downlights:
1.   Safety Against Fire Hazards
The foremost benefit is enhanced safety against fire. When installing downlights, holes must be cut into the ceiling, disrupting the integrity of the fire barrier between floors. Fire-rated downlights help maintain this integrity due to their inbuilt intumescent material, which expands in the event of a fire, sealing off the area around the light fitting. In doing so, they provide valuable extra minutes for vacating the premises safely.
2.   Compliance with Building Regulations
Compliance with Building Regulations is a serious matter that requires due diligence and attention to detail. Many countries have laws requiring the use of fire-rated downlights in certain areas of a building, particularly when the ceiling forms part of an escape route in the event of an emergency. Fire-rated downlights are designed to reduce the spread of fire and smoke within a building, thus allowing occupants more time to safely evacuate. Ensuring strict compliance with these regulations not only helps protect people from potential danger but also helps building owners avoid costly penalties or damage to their reputations. In addition, using fire-rated downlights in specified areas ensures that buildings pass safety inspections quickly and efficiently. Overall, adjusting to Building Regulations is a necessary expense that can pay dividends in providing peace of mind for both owners and occupants alike.
3.   Energy Efficiency
Fire-rated downlights offer an incomparable layer of security, while also providing a host of other benefits. These modern lighting solutions feature energy-efficient bulbs such as LEDs, which use substantially less power than traditional incandescent and CFL lights. Opting for them instead of other alternatives not only gives users the peace of mind of a dependable fire safety solution but also helps to reduce their electricity bills over time. Furthermore, these downlights have the added advantage of being environmentally conscious as they help reduce overall energy consumption. So, whether you are looking for reliable fire protection or an economical and sustainable lighting option, energy-efficient fire-rated downlights are certainly worth considering.
4.   Enhanced Noise Control
For those prioritizing peace and quiet, fire-rated downlights are the perfect choice. These top-tier fixtures have undergone extensive safety tests to guarantee their resistance to flames and offer superior noise control, shown by their acoustic rating measured in decibels – the lower the rating, the more effective the insulation. The result is a sound-proof living space with less interruption from external disturbances or noise pollution. Investing in these downlights not only allows for a more tranquil atmosphere but also provides an increased sense of security, knowing your home is protected from potential fires.
Final Words:
Fire rated downlights are incredibly beneficial in their safety features, regulatory compliance, energy efficiency, sound control, variety of styles, thermal protection, and durability. In prioritizing both safety and aesthetics in a building, they are undoubtedly an excellent choice, so when making this valuable enhancement to your property, consider LED Supplier for an assortment of fire-rated downlights.
Tags: 1 hour fire-rated recessed lights, when are fire-rated recessed lights required, 2 hour fire rated recessed light, a rated led downlights, fire rated light box, downlight fire hood, fire rated spot lights, fire-rated wafer lights.