Intervention for a Family Member: When a loved one is struggling with addiction, mental health issues, or destructive behaviors, it can be challenging to know how to help them. That's where interventions come in. In this guide, we will delve into what interventions are and how they can provide support and facilitate the recovery process for your family member. Whether you're unfamiliar with the concept of interventions or seeking guidance on how to approach one, you've come to the right place.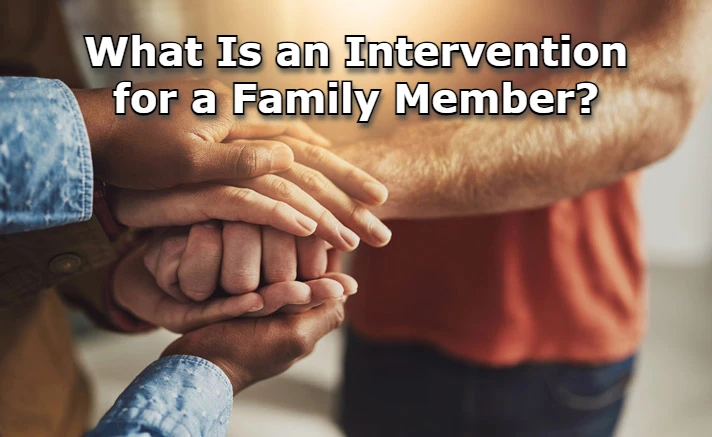 Join us as we explore the intricacies of interventions, understand their purpose, and discover what to say at an intervention to effectively express your concerns and offer the necessary help. Let's embark on this journey toward supporting your loved one's well-being and fostering a path to recovery.
Understanding Intervention
●    Defining Intervention
An intervention is a carefully planned and structured meeting designed to confront an individual about their destructive behaviors, with the ultimate goal of motivating them to seek help and engage in a recovery process. It is a compassionate approach that involves the participation of family members, friends, and professionals to express their concerns, provide support, and present treatment options to the individual.
●    The Purpose of Intervention
The primary purpose of an intervention is to break through the individual's denial or resistance, helping them realize the extent of their problems and the impact it has on their own lives and the lives of their loved ones. By creating a safe and non-judgmental space, an intervention aims to motivate the person to accept help, enter treatment, and embark on the path to recovery.
Preparing for an Intervention
●    Educate Yourself
Before organizing an intervention, it is crucial to gather information and educate yourself about your family member's specific issue. Whether it's substance abuse, a mental health disorder, or another destructive behavior, understanding the condition, its symptoms, and available treatment options will empower you to make informed decisions and provide valuable support.
●    Formulate a Plan
Developing a well-thought-out plan is essential for a successful intervention. Identify the individuals who will participate in the intervention, including family members, close friends, and possibly a professional interventionist. Assign roles and responsibilities, establish a date, time, and location, and ensure that all participants are familiar with the intervention process and their respective contributions.
Executing an Intervention
●    Create a Caring Environment
Choose a comfortable and private location for the intervention, ensuring that the atmosphere is supportive and non-confrontational. Begin the meeting by expressing love, concern, and empathy for the individual. Reinforce the idea that the intervention is an act of love and a genuine effort to help them find a path to recovery.
●    Share Personal Impact
Each participant should have an opportunity to share their personal experiences and the impact of the individual's behavior on their own life. These testimonies should be honest, non-blaming, and come from a place of love and concern. Emphasize specific incidents and feelings, illustrating the negative consequences of the destructive behavior.
Present Treatment Options
Research treatment options and present them to your family members during the intervention. Offer concrete solutions, such as therapy, support groups, or rehabilitation centers. Highlight the potential benefits of seeking treatment, including improved physical and mental health, healthier relationships, and a brighter future. Provide resources and contact information for support services to facilitate their next steps.
Post-Intervention Support
●    Encourage Treatment Commitment
After the intervention, encourage your family member to accept the help offered and commit to entering treatment. Provide reassurance and reinforce your support throughout the process. Help them understand that seeking help is not a sign of weakness but rather a courageous step toward healing and a better life.
●    Establish Boundaries and Support Systems
Establish clear boundaries and expectations to protect your own well-being and maintain a healthy environment. Encourage other family members to set their boundaries as well. Engage in self-care practices, seek support from support groups or therapists, and consider family therapy sessions to address any underlying dynamics that may contribute to the destructive behavior.
●    Celebrate Progress and Stay Committed
Recovery is a challenging journey that requires time, patience, and commitment. Celebrate even the smallest victories and milestones along the way. Stay involved in your family member's recovery process, offering encouragement and support. Remember to prioritize your own well-being as you navigate this complex path.
An intervention can be a transformative experience for both the individual struggling with destructive behaviors and their family members. By approaching the situation with empathy, education, and careful planning, interventions can provide a significant opportunity for change and recovery. Remember to seek professional guidance when necessary, and never lose hope in the potential for healing and growth.
Also, Check: Importance of the Internet in Daily Life
Final Words:
Finally, when a loved one is struggling with addiction, mental health concerns, or harmful behaviors, interventions may be a vital tool in assisting them on their journey to recovery.
We can successfully communicate our concerns and give assistance if we grasp the objective and structure of interventions. Educating oneself about the individual situation, developing a well-thought-out strategy, and providing a loving atmosphere are all important elements in carrying out a successful intervention.
Sharing personal impact, giving treatment alternatives, and providing post-intervention support are all necessary for motivating treatment commitment, setting limits, and celebrating achievement. Interventions may be transforming events that create healing and progress for both the person and their family members via empathy, education, and careful preparation.
Tags: family intervention examples, family intervention ppt, family therapy interventions for communication, family therapy interventions pdf, family interventions social work, family possible intervention in the community, how to do an intervention.