Logo Maker App: If you want to create a logo then the first thing you need to know is how to make it, afterwards, you can get to know about the best logo maker, designer and creation applications that can help you make a splendid logo for your brand. Follow these steps if you have a basic idea of what kind of logo do you want for your brand:
What is Logo & How to Make It?
First, you have to search about your competition, and you should know that with this kind of awareness about your competition you can simply know about what's out there in the market and what you have to make for your brand. Research is an essential step in every field of life, so do skip it and make sure that you differentiate yourself from others in the industry.
Getting inspiration is very much important in logo making. We want our audience to know that inspiration is what will get you the best idea or design for your logo if we specifically talk about logo making. You can use logo maker apps and go through different templates to see what design suits your instinct best. Inspiration is an important step, and without it, you cannot do anything.
You have to establish your message in the logo of your brand. You must know that logo is not just an image or a symbol that you place on billboards, the logo is a mode of communication between you and your clients. A logo attracts clients and customers based on different features in it, so you have to make sure that your logo is extremely powerful and expressive.
You should get feedback from potential customers and also other friendly ventures. It is important/essential that you know about the perception that people have about your logo. People can help you a lot in logo designing if they give you a constructive and honest opinion.
The creation of the final design is the last step, and you have to be very careful in it as the final creation is the only thing that is going to determine whether your logo is going to be a success or not. If you don't have a budget to get a logo design and are also not an expert in designing, then you can always use the apps that are mentioned below!
List of the Best Online Logo Maker Applications:
Here are the best utilities that can help you make your own attractive and unique logo!
Logo Maker – Free Graphic Design & Logo Templates 
This Logo Maker Application belongs to the CA apps, which is a very reputed platform for providing free and quality services so you can use this app without any hesitation.
With the help of this logo maker app, you can get more than 2500 logo templates that are unique in their existence, you will get more than 5000+ logo icons and 500+ font styles. This is a very versatile graphic designing app that can help you make a unique logo for yourself. If you have zero designing skills and knowledge, then you should use this logo maker app as it can help you make a logo and edit it from the very scratch.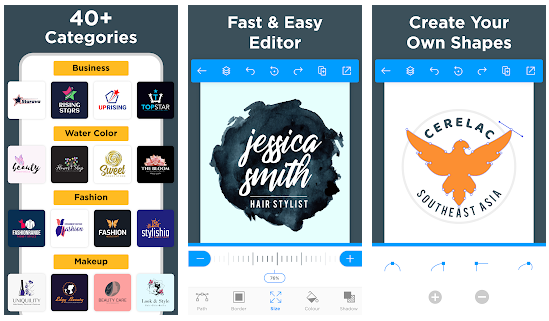 Oberlo
The Oberlo logo maker/creator application is a very famous application available on both android and IOS devices. You should know that this logo maker application is known to be one of the friendliest apps available on the web. The application has the most useful navigational options that can help you make a logo from scratch and also with the help of premade templates. You will get a huge selection of icons, play colours, symbols, frames and even layouts that you can choose from.
Hatchful
Hatchful is another online logo maker application that can help you make better designs for simple use and different users. The app is very simple in its use, and one can understand its working without getting into any kind of trouble or complications. You can customise your logo by using the different types of templates available in the application. Now an interesting feature of the logo maker application is that it can help you in making a great slogan or tagline for your logo. You can edit and customise the logo and the text as per your choice using different fonts, colours, icons and layouts. This is a free logo maker application.
Conclusion: 
These are the top three logo maker applications that are free and easy to use so if you are planning on initiating a business or brand then these apps can help you a lot in making the best logo for your brand. You should simply know that starting a business without a proper logo is not a wise decision so you have to use these for logo making no matter what! Use these apps and share your thoughts in the below comment box. Thanks for your visit.
Related Searches: 
logo maker app free download,
logo maker app for PC,
best free logo maker,
logo maker software,
creative logo maker,
text logo maker.