Plumbing systems are the unsung heroes of our daily lives, providing us with essential water supply and wastewater management. While we often take them for granted, these systems are a testament to human ingenuity and engineering prowess. A wide array of plumbing systems are tailored to explicit needs, climates, and building types. We'll delve into the intricacies of different plumbing systems, shedding light on their functions, advantages, and considerations.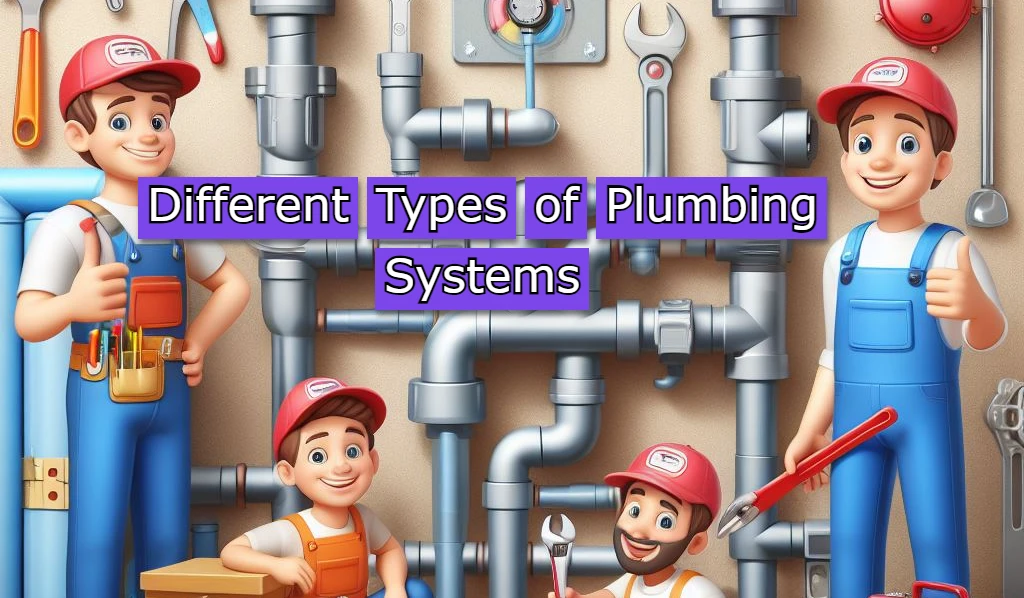 Different plumbing systems
1.   Traditional Gravity-Based Systems
The traditional gravity-based system is one of the oldest and most common plumbing systems. This system depends on gravity's simple yet effective principle to move water through pipes. In this system, water flows from a higher point (usually a water tank or reservoir) to a lower point, ensuring a steady water supply to various fixtures. It's a tried-and-true method used for centuries, particularly in residential settings. Traditional gravity-based systems offer several advantages. They are relatively easy to install, require minimal maintenance, and are energy-efficient since they don't rely on pumps. However, their effectiveness is limited by the elevation of the water source. The higher the source, the greater the water pressure, making them less suitable for tall buildings.
2.   Pressurized Systems
Pressurized plumbing systems have gained popularity in modern construction, especially for multi-story buildings. These systems use pumps to pressurize water, ensuring a consistent flow and adequate pressure throughout the building. They are characterized by their ability to overcome the limitations of gravity-based systems, making them ideal for high-rise structures. One key benefit of pressurized systems is their versatility. They can adapt to various building designs and provide consistent water pressure even in buildings with dozens of floors. Nevertheless, they are more complex to install, maintain, and consume energy to operate the pumps, which can add to operational costs.
3.   Pex Plumbing Systems
Polyethylene cross-linked (PEX) plumbing systems represent a modern innovation in plumbing technology. PEX pipes are made from a flexible plastic material resistant to corrosion and scale buildup. These pipes can be easily bent and routed through tight spaces, making them popular for residential and commercial applications. PEX plumbing systems have several advantages. They are cost-effective, require fewer fittings (reducing the risk of leaks), and are less susceptible to freezing than traditional metal pipes. Nevertheless, concerns have arisen about the long-term effects of PEX on water quality, as some studies suggest that it may introduce contaminants into the water supply.
4.   Copper Plumbing Systems
Copper has been a stalwart in the plumbing industry for decades. Copper plumbing systems are comprehended for their durability and resistance to corrosion. They are often chosen for their longevity and the fact that they don't degrade water quality. Copper pipes are commonly utilized in both residential and commercial applications. One of the primary advantages of copper plumbing systems is their proven track record. They can last for decades without needing replacement and are highly resistant to leaks and ruptures. However, the initial cost of copper pipes is relatively high, and their installation can be labor-intensive.
5.   Septic Systems
While most plumbing systems focus on the supply of clean water, septic systems are designed for wastewater management. Common in rural and suburban areas, septic systems are self-contained units that treat and dispose of household wastewater on-site. They consist of a septic tank and a drain field. Septic systems are advantageous in areas where connection to a municipal sewer system is not feasible. They are relatively low maintenance and can be cost-effective in the long run. However, they require regular pumping and maintenance to prevent tank overflow or drain field failure. Improperly maintained septic systems can pose health and environmental risks.
6.   Greywater Systems
Greywater systems are an environmentally conscious approach to water conservation and reuse. These systems collect and treat water from non-toilet fixtures such as sinks, showers, and laundry machines. Treated greywater can then be reused for purposes like irrigation, toilet flushing, and even laundry. The primary advantage of greywater systems is water conservation. They reduce the demand for freshwater resources and can lead to significant cost savings. However, the design and maintenance of greywater systems require careful consideration to ensure water quality and prevent the buildup of contaminants.
7.   Rainwater Harvesting Systems
Rainwater harvesting systems are another sustainable plumbing solution gaining popularity in residential and commercial settings. These systems collect rainwater from rooftops and other surfaces, storing it in tanks for later use. Rainwater can be used for non-potable purposes like irrigation, toilet flushing, and laundry. Rainwater harvesting systems offer several benefits. They reduce reliance on municipal water supplies, decrease water bills, and contribute to conservation efforts. Nevertheless, the feasibility of rainwater harvesting depends on local climate and regulations and the upfront installation and maintenance cost.
8.   Hydronic Heating Systems
While most plumbing systems focus on water supply and drainage, hydronic heating systems are designed for space heating. These systems use water as a heat transfer medium, circulating it through pipes to radiators, underfloor heating, or baseboard heaters. They are comprehended for their energy efficiency and comfort. The advantages of hydronic heating systems include even and comfortable heating, energy efficiency, and the ability to integrate with various heat sources, such as boilers, solar panels, or geothermal systems. However, their installation can be complex and costly, especially in existing buildings.
Also Check: Most profitable way to sell my house
Final Words:
Plumbing systems are a diverse and vital aspect of modern infrastructure. From traditional gravity-based systems to innovative approaches like greywater recycling and rainwater harvesting, each plumbing system has its own advantages and considerations. The choice of plumbing system depends on various factors, including building type, location, budget, and sustainability goals. As technology advances and environmental concerns become increasingly important, plumbing systems will likely continue to evolve.
Discovering the right plumbing system for a specific application mandates a careful assessment of needs and priorities, ensuring we have access to clean water and use it wisely and sustainably. If you want to learn more about Sarkinen Plumbing, their website provides detailed information about their services, expertise, and customer testimonials.
Tags: 2 types of plumbing systems used in buildings, Different types of plumbing systems pdf, Different types of plumbing systems and their functions, types of plumbing systems in buildings, three main types of plumbing systems, residential plumbing systems.