Lighting plays a pivotal role in office design, significantly influencing productivity, comfort levels, and the holistic well-being of employees. Choosing the right type of lighting, such as LED downlights, can significantly enhance the work environment. This guide will provide insights into selecting the best lighting for office productivity.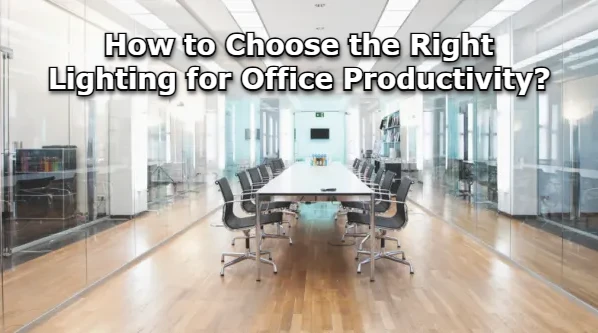 Optimum Scenario: Harnessing Natural Lighting
Natural light is widely recognised as the most desirable form of office lighting. It is critical in supporting mental and physical health, encouraging a better mood, maintaining alertness, and promoting productivity.
Therefore, whenever you have the chance, it's highly recommended to design your office to take advantage of the maximum inflow of natural light. This could be achieved through various architectural and interior design strategies, like installing large windows or using reflective surfaces.
Artificial Lighting: Embracing LED Downlights
In today's fast-paced and technology-driven work environments, the importance of proper lighting cannot be overstated. Artificial lighting is crucial in enhancing office productivity, and these downlights have emerged as a highly efficient and beneficial lighting solution. These downlights offer many advantages that contribute to a more productive workspace.
Firstly, they provide bright and uniform illumination, minimising shadows and reducing eye strain, which can lead to increased focus and concentration among employees.
Secondly, These downlights have a longer lifespan and consume significantly less energy than traditional lighting fixtures, resulting in business cost savings. This reduces environmental impact and allows organisations to allocate resources more effectively. By embracing These downlights, offices can create a well-lit, energy-efficient environment that promotes productivity and employee well-being.
Furthermore, these downlights offer flexibility regarding colour temperature and brightness control. Different tasks require different lighting conditions, and these downlights can be easily adjusted to meet specific needs.
For instance, cool white light with a higher colour temperature can promote alertness and productivity during intense work periods, while warm white light with a lower colour temperature can create a more relaxed and comfortable ambience during collaborative or creative tasks. This adaptability allows employees to customise their lighting environment based on their preferences and work demands.
Task Lighting: A Crucial Tool for Focus and Precision
Task lighting refers to the focused illumination provided for specific work-related tasks that require more attention to detail, such as reading, writing, or drawing. Adjustable desk lamps or under-cabinet lights could provide it. This type of lighting is essential as it can provide the additional illumination required for specific tasks, reducing eye strain and thus boosting productivity significantly.
Decoding Light's Colour Temperature
The colour temperature of light has a tremendous ability to influence productivity. Cool white light in the range of 5000K-6500K, resembling natural daylight, is optimal for facilitating concentration and task-focused work. Conversely, warmer light in the range of 2700K-3000K generates a relaxed ambience, making it suitable for communal or break areas.
Emphasising Lighting Control and Flexibility
Granting employees control over office lighting through options like dimmable or individual task lights allows them to tailor the lighting according to their preference and the task. This level of flexibility can dramatically enhance comfort and boost productivity, fostering a sense of individual control over one's work environment.
Adherence to Proper Maintenance and Correct Placement
Regular and thorough lighting fixture maintenance is crucial for optimal operation and longevity. Correct positioning of lighting fixtures is equally essential. LED spotlights, for instance, should be spaced evenly to prevent the creation of shadows and dark spots. Desk lamps should be positioned strategically, preferably to the side of the workstation, to avoid causing glare on computer screens.
Also, Check: How to Find Air Leakage in Home Windows?
Conclusion
Choosing the proper lighting is a crucial aspect of office productivity. Combining natural light with effective artificial sources like LED downlights can create a work environment that promotes focus, efficiency, and well-being.
Remember to consider task-specific lighting, colour temperature, control and flexibility, and proper maintenance and placement of your lights. With thoughtful planning and selection, office lighting can significantly enhance workplace productivity and employee satisfaction.