It seems robotics promises to be an exploding mechanical science in the 2020s and beyond. From the invisible bots that can plague your social media account, to demolition robots that can take down an entire building without the dangers associated with using human workers, to those little round devices that you see mowing the grass on homeowner's front lawns, robots are not only growing in popularity as an industry, but they are getting smarter. A lot smarter.
Underwater robotics is just one such field where robots are being envisioned as the next generation of autonomous vehicles. According to a new report, submersible robotics have been in use for exploring deep underwater environments for a decades. They have been especially valuable in the inspection of major infrastructure like bridges, oil rigs, pipelines, plus military and communications applications. They've also been useful for energy exploration/production.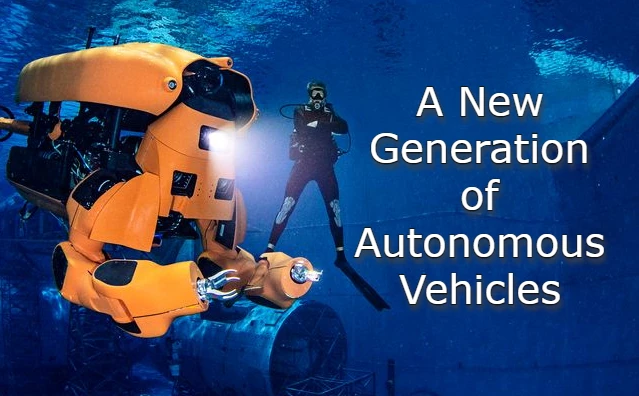 It should be noted that underwater infrastructure is considered of vital importance to national security and it is especially at risk when exposed to corrosive and harsh environments like you will find in salt water.
But utilizing robotics to conduct underwater inspections is a far less expensive and much safer than using people as divers. They also provide lots of data including data for 3D modeling, detailed imagery, precise reporting on structural weakness detection, and even access to formerly "unreachable area, such as inside pipes."
The Classes of Robots
Over the past few decades, a number of different robots have been engineered to meet some of the most challenging underwater tasks. Here's just a few in operation today:
UUV: Unmanned underwater vehicles are designed to move in one direction. They are said to be highly efficient mapping huge swaths of seafloor and greatly assist underwater archaeologists in the hunt for shipwrecks and other treasures.
ROVs: Engineered for omni-direction maneuvering, remotely operated vehicles are usually powered externally and "tele-operated using a tether cable." ROVs are used commonly for the inspection of offshore structures.
AUVs: The autonomous underwater vehicle is untethered, can maneuver itself, and is armed with manipulation and grasping capabilities. Newer classes of AUVs contain a number of depth-size classes that range from man-portable vehicles that can dive to 100 meters to "deep-water, long duration platforms."
Low-Cost Vehicles: A more recent trend is for robotics companies to provide less expensive, smaller vehicles to hobbyists and the general public. But they are also used by researchers to test certain aspects of underwater systems they are presently developing, such as sensor arrangements and control systems.
Autonomy is the New Trend
Say the experts, by far the new trend in underwater robotics is revolving around autonomy. Says Michael Kaess, an associate research professor in robotics for Carnegie Mellon University, rather than utilizing remote control by a human being or preprogrammed systems, "we are seeing more built-in autonomy that can react to the specific conditions on-site."
Increasingly equipped with new high-tech abilities like on-board detection, mapping, and autonomous sensed feature adaptation, AUVs are getting smarter. Says a Woods Hole Oceanographic Institution Applied Physics expert, adaptation is not yet standard, but it is a heck of a lot "easier to integrate" then it was even a decade ago.
But by far the most promising and existing advancement in underwater autonomous vehicles is the development of autonomous docks and gateways that offer the exchange of data. This is said to be a huge step toward constructing "resident autonomous systems" right on the seabed in depths up to 3,000 to 4,000 meters.  
According to engineers, a seafloor resident AUV or ROV system will remain on the seafloor while being controlled from a base on shore. Back in 2019, the underwater robotics company Saab Seaeye, was said to have successfully docked an AUV to a subsea docking platform station for the purposes of downloading data and recharging its batteries.
The actual underwater charging process was completed with the use of inductive connectors rather than the usual pins, which is considered by experts as yet another significant advancement in underwater robotic tech.
What is said to be essential for a seafloor resident system is the engineering of optic modems and high-frequency acoustic modems that can provide high bandwidth online communication links from over "tens to hundreds of meters so that direct communication" is no longer a requirement.
Experts also point out that new sensing technologies are presently being developed that will improve "situational awareness" when underwater robots are required to work in very close proximity to "subsea structures" thus preventing collisions.
Tags: underwater robotics, types of underwater robotics, robotics engineering, underwater robotics research, underwater robotics engineering, underwater robots examples.