3D Scanning Guide:  In recent years, 3-D scanning has grown to become an increasingly popular method in many different kinds of fields, including engineering, manufacturing, healthcare, and entertainment, amongst others. However, what exactly is meant by the term "3D scanning," and how does this process take place?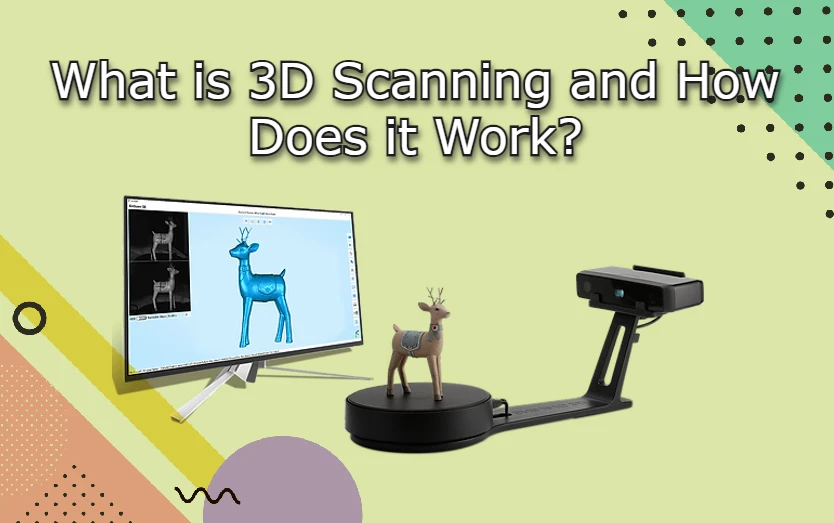 In this post, we will discuss the fundamentals of 3-D scanning, as well as its applications and various types of 3D scanning technology that are now accessible. Okay, let's get into the main subject of the article below.
The act of collecting the physical form and dimensions of an object or environment in order to build a digital 3D representation is referred to as "3D scanning." This is accomplished via the use of a variety of technologies that enable the measurement and investigation of the environment's or object's physical characteristics.
The digital model that is produced as a consequence may be put to use for a wide number of applications, including simulations, 3D printing, and product design.
How Does 3-D Scanning Work?
The process of scanning in three dimensions may differ significantly depending on the technology that is being utilized, however, the majority of 3 dimension scanning systems stick to a standard operating procedure.
First, the objects or environment to be scanned is prepared for the process. This preparation could involve cleaning particular sections of the object or marking certain regions of the environment. Next, the 3D scanning system gathers information about the object being scanned.
This step can be accomplished with a variety of techniques, including photogrammetry, lasers, or structured light. Using specialized software, this data is then processed and converted into a 3D model. This model can then be refined and edited to produce a final product of high quality.
Types of 3D Scanning Technologies
Several unique 3-D scanning technologies are available, each with its own set of attractive advantages and disadvantages. In the field of 3D scanning, some of the most prevalent methods include:
Laser Scanning:  The distance between the scanner and an object is measured using a laser beam to generate a point cloud that accurately reflects the object's geometry and dimensions.
Structured Light Scanning:  In structured light scanning, an object's form and dimensions are measured by projecting a pattern of light upon it. Deformations in the pattern are used to generate a 3D representation of the item by the system.
Photogrammetry:  To produce a 3D model of an item, photogrammetry employs a series of images collected from various vantage points. The program looks at the pictures and figures out what the thing is like in 3D.
Applications of 3D Scanning
3 dimension Scanning may be used in a broad variety of situations and industries of work. The following is a list of some of the most popular uses of 3D scanning:
Product Design: 3-D scanning may be used to build digital models of actual things, enabling designers to test and revise ideas before they are created. This is possible because 3-D scanning can create accurate representations of physical objects.
Manufacturing: During the manufacturing process, three dimension scanning may be used to examine and measure items to ensure that they fit the needed criteria and ensure that the process runs smoothly.
Healthcare: 3D scanning may be used for a variety of purposes, including the creation of individualized medical implants or prostheses, as well as the visualization and planning of intricate surgical procedures.
Entertainment: 3-D scanning may be used to produce digital models of actors or items for use in movies, video games, or other kinds of media. These models can then be utilized in the entertainment industry.
Also Check: Best Image to Text Converter Online
Conclusion
The use of advanced technologies like 3D scanning has led to a revolution in many different kinds of business sectors. 3-D scanning allows new kinds of design, production, and simulation because it creates digital representations of the real world by digitizing actual items and settings. Scanning in three dimensions will undoubtedly continue to play a significant part in the development of a broad variety of business sectors due to the availability of a diverse set of applications and technology.
Hope the above guide will help you to know more about 3-d scanning technology. If you have any doubts related to 3-d scanning please feel free to ask us in the below comment section. Thanks for your visit.
Tags: what is 3d scanning used for, how does 3-d scanning work, 3-d scanning techniques, photogrammetry 3-d scanning, 3d laser scanning, professional 3d scanner, 3d scanner for reverse engineering?